Spotlight
Rihanna Tells The Paparazzi: Straight To The Moon! (PHOTOS)
| | | | |
| --- | --- | --- | --- |
| Friday, 04 June 2010 00:37 | | | |
Posted by:
The Decider
Rihanna is across the pond tearing down every show she does on her "Last Girl On Earth Tour" but in a recent show the Barbadian beauty came out rocking a knitted one piece leotard and she looked amazing.
While on stage in Athens, Greece she dawned the one-piece leotard. Doing her thing and rocking the crowd to her hit single "Hard."
Along with her sweater bikini, she was also spotted rocking a real bikini where she took the opportunity to flash the paparazzi her a$$. Rihanna never misses an opportunity to surprise anyone!
Rihanna is currently on her "Last Girl On Earth Tour" all across Europe, and the Europeans are in for a treat, Rihanna will make sure she gives them a show they won't forget.
In the meantime, take a look at Rihanna showing some skin...
::PAGE::
::PAGE::
::PAGE::
::PAGE::
Megan Fox Still Wet In Hawaii Day 4 [PHOTOS]
| | | | |
| --- | --- | --- | --- |
| Thursday, 03 June 2010 07:22 | | | |
Posted by:
BlogXilla
Megan Fox splashed her 23 year old amazing body around in the water for the 4th day in a row at beautiful Kona, Hawaii. Megan Fox has moved on with her acting life as the former Transformer's babe is the current Jonah Hex hottie who hopped on her boyfriend's back, splashed water and made out with 90's star Brian Austin Green. Life is good right?
Overall after 4 days of Megan Fox Bikini pictures, I'm really glad these two got to have some quality time together. PS. Megan Fox bikini pictures are better than a city full of swings and slides equip with a single Jungle Gym. 
::PAGE::
::PAGE::
::PAGE::
::PAGE::
Amy Winehouse Kisses After Dark (PHOTOS)
| | | | |
| --- | --- | --- | --- |
| Thursday, 03 June 2010 07:22 | | | |
Posted by:
The Decider
Ya girl Amy Winehouse was out and about in the London streets the other night and she was in a very loving mood giving kisses to everybody she encountered. The "Rehab" diva was at a Jazz after Dark club in Soho where she performed a set and afterward enjoyed the night. 
Whinehouse has been doing this for years and she shows no signs of slowing down any time soon. Amy made her rounds throughout the Jazz club kissing female fans and kissing male fans. Wonder what a kiss from Amy Whinehouse tastes like? Either way it looks like Amy had an incredible night, check her out.
::PAGE::
::PAGE::
::PAGE::
::PAGE::
::PAGE::
::PAGE::
::PAGE::
::PAGE::
::PAGE::
::PAGE::
::PAGE::
::PAGE::
::PAGE::
::PAGE::
::PAGE::
::PAGE::
::PAGE::
Lil Kim Passes The Blonde Wig [VIDEO]
| | | | |
| --- | --- | --- | --- |
| Thursday, 03 June 2010 07:21 | | | |
Posted by:
BlogXilla
Lil Kim has been the number 1 female in the game for a long time now, and it's wasn't until Nicki Minaj came along that Lil Kim really had to relinquish the title as baddest chick in the game. That's an amazing feet, because in my opinion even without putting out an album in years, Lil Kim was still number 1 when it came to female rap. That was until she gave away her crown in Buffalo New York when she took a stab at Nicki Minaj. Dissing Nicki Minaj is dumber than Kat Stacks going on Jeopardy instead of just sleeping with a rapper for money. 
During her performance Kim threw off her blonde wig saying she's above this, while throwing her blonde wig into the crowd. Lil Kim is a legend, and LEGENDS don't diss babies, she's the Queen B for crying out loud. Honestly the last thing we need is beef between Lil Kim and Nicki Minaj. Does Lil Kim need to dust of her Biggie records? "F*ck that beef sh*t! That sh*t is played out" 
Dear Lil Kim we need you to befriend Nicki Minaj, show her the ropes, do a song with her and pass the baton or blonde and blue wigs in a very classy way. You're always be number 1 Kim no need to throw shots. 
Kim Kardashian Holds Mason While Scott & Kourtney Fight
| | | | |
| --- | --- | --- | --- |
| Thursday, 03 June 2010 07:21 | | | |
Posted by:
BlogXilla
Kim Kardashian stopped by one of her favorite restaurants Katsuya last night for dinner with Kourtney and her baby daddy Scott. In the newest trailer for "Khloe and Kourtney Take Miami", Scott is out of control. He shows up naked by the jacuzzi, drinks out of control and punches walls. 
Life and Style has the scoop but after all of this drama, why even deal with Scott? 
In footage obtained by Life & Style, the new mom is seen cowering with her now-5-month-old son, Mason, as her boyfriend and Mason's daddy, Scott Disick, goes on an alcohol-fueled tirade. The intense clip shows Scott smashing bottles and punching walls, throwing back drinks and littering the floor with broken glass. Kourtney's shown slamming her bedroom door, frantically locking Mason and her sister Kim inside to shield them from her enraged beau. "I'm afraid he's going to come back in here," says Kim as she clutches Mason. The fight ends with Scott rushed to the hospital and Kourtney left in hysterics.
Kris Jenner even goes as far and comparing Scott Disick to OJ Simpson.
"I've had another girlfriend who allowed this kind of stuff in her life, and she ended up dead," Kris Jenner, says ominously in the footage obtained by Life & Style, referring to her best friend, Nicole Brown Simpson, O.J. Simpson's ex-wife, who was brutally murdered in 1994.
::PAGE::
::PAGE::
::PAGE::
THE CORNER CONVO: Should Obama Meet With Arizona Governor?
| | | | |
| --- | --- | --- | --- |
| Thursday, 03 June 2010 07:21 | | | |
Posted by:
The Decider
Up for discussion on the corner today, DO YOU THINK OBAMA SHOULD BE MEETING WITH BREWER?
Arizona Govener Jan Brewer is set to meet with President Obama at the White House on Thursday to discuss Arizona's new immigration law that will take effect July 29. The widely known SB 1070 law will enforce police officers and any other law enforcement to examine immigration status if there is reasonable suspicion a person is in the country illegally. It also makes being in the country illegally a state crime.
President Obama has said that the law is the wrong approach to illegal immigration and his administration is combing through it and preparing for a possible legal challenge. So there will most definitely be a showdown in the White House today because Gov. Brewer doesn't seem to be backing down.
CLICK NEXT TO VIEW THOSE WHO WILL BE EFFECTED BY THE NEW LAW
::PAGE::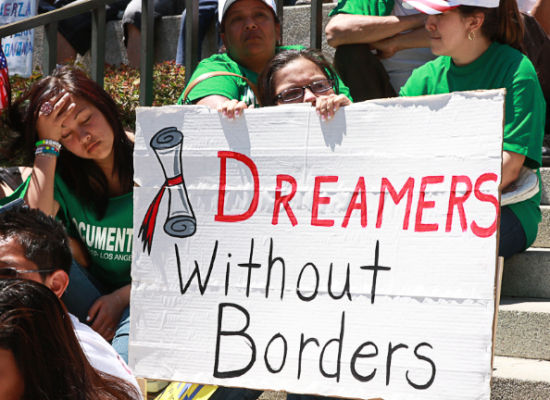 ::PAGE::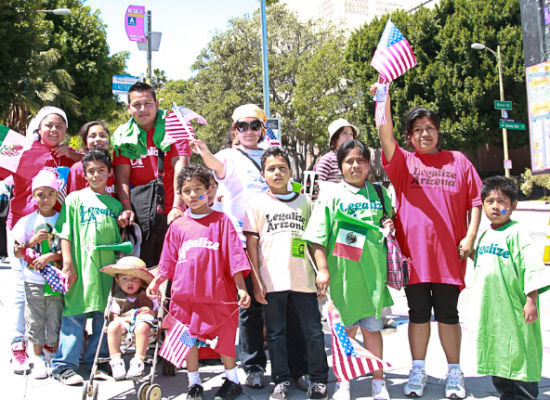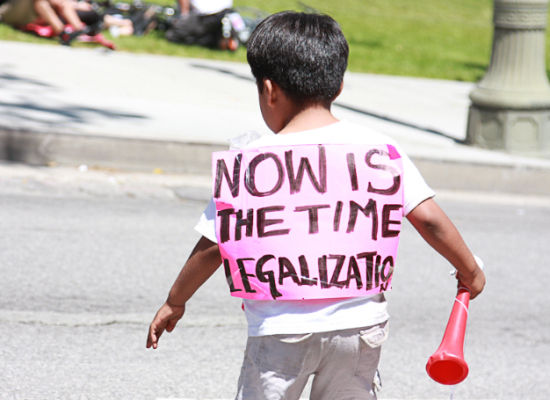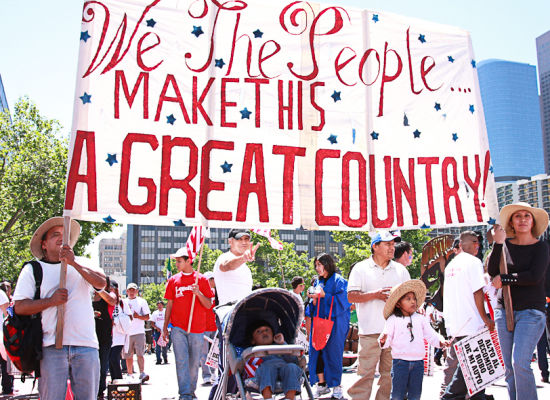 ::PAGE::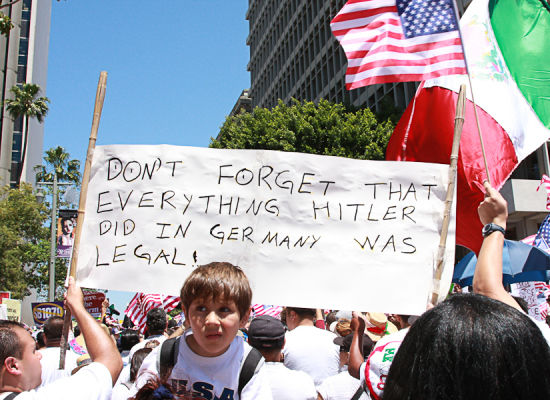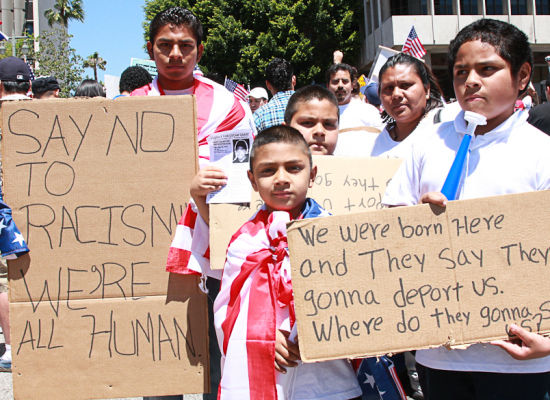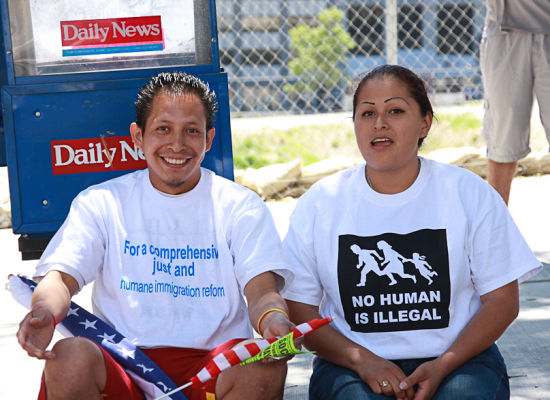 Christina Ricci Gives Us Bottom Boob...
| | | | |
| --- | --- | --- | --- |
| Thursday, 03 June 2010 07:21 | | | |
Posted by:
PiperMckei
"Christina Ricci attended the closing gala for Marina Abramovic's show at the MOMA Tuesday night, but what she wore wasn't as obvious as what she didn't wear - a bra." huffingtonpost.com
Some of us remember C. Ricci as Wednesday Addams from the Addams Family, a dark sinister teen who never seemed to smile. But under that gothic persona, I always liked her. I felt as if she and I were kindred spirits! And as the years have passed, I find her style to be very apathetic and genuine. I love her new take on cleavage, as I also think the lower boob is sexier than the top! We applaud your pioneering fashion sense, and predict that in six months the bottom boob will reign supreme!
Looking flawless in a Givenchy frock and Fendi shoes, C. Ricci opted for a fresh dewy face with dark dramatic eyes. We saw in a lot of Fall 2010 runway shows that buns were the underlined hair trend, so one can only conclude that Christina is right on trend in her fashion choices! Click on to see the transformation C. Ricci has made since her Addams family days!
::PAGE::
::PAGE::
::PAGE::
Congrats @UncleRush & Not Because Selita Ebanks Is Taking A Pic With You!
| | | | |
| --- | --- | --- | --- |
| Thursday, 03 June 2010 07:21 | | | |
Posted by:
RachelSamara
Hip-hop mogul and the man who signs our checks here at GG, Russell Simmons, received the National Arts Club's Gold Medal of Honor for Lifetime Achievement last night, June 2. 
Russell was honored at the NYC event, where he celebrated with his older artistic brother, Danny Simmons, Victoria's Secret model Selita Ebanks, music industry legend Andre Harrell, Basketball Wives star Jennifer Williams, sex expert Dr. Ruth and Nick Wheeler and Tyson Ritter of The All American Rejects.
Danny Simmons and Andre Harrell both gave speeches dedicated to the CEO of hip-hop, as well as a video dedication from super producer Swizz Beatz.
Check out some photos from the event!
::PAGE::
::PAGE::
Lyor Cohen and Russell Simmons
::PAGE::
::PAGE::
Russell Simmons and Nick Wheeler
::PAGE::
::PAGE::
Dr. Ruth and Tyson Ritter
Madonna Before And After Photoshop (PHOTOS)
| | | | |
| --- | --- | --- | --- |
| Thursday, 03 June 2010 07:21 | | | |
Posted by:
Flywritergurl
Everyone knows that Photoshop works wonders on pictures, this is definitely the case on Madonna's  Louis Vuitton ads. Before and after shots have surfaced from the luxury brands Fall/Winter 2009 ads which featured the 51-year-old superstar.  Madonna has been a spokesperson for the Louis Vuitton since 2009 being featured in numerous magazine ads and billboards.  There is no doubt that Madonna looks fabulous for 51 but don't be fooled the untouched photos of her are a more realistic depiction of what a women in her fifties looks like. Tell us what you think of Madonnas photos. 
CHECK OUT MADONNAS UNTOUCHED PHOTOS
::PAGE::
::PAGE::
::PAGE::
The Real Young Money Millionaires
| | | | |
| --- | --- | --- | --- |
| Thursday, 03 June 2010 07:21 | | | |
Posted by:
The Decider
There is something to be said when you hit a million before you reach the age of thirty it's a goal that many young people try to attain, it's a goal that even today's richest didn't even achieve. Bill Gates and Steve Jobs set the wheels in motion for these young money millionaires.
Mark Zuckerberg, Kevin Rose, and Stacey Bendet are just a few that took an idea and turned it into a multimillion dollar enterprise. These are the names you should know, read their stories and maybe you can reach millionaire status before the age of thirty.
Take a look as we bring you the real young money millionaires.
Mark Zuckerberg, 26
Co-creator of Facebook which will bring in an estimated $710 million to $1 billion in revenue. Zuckerberg's on paper worth is about $4 Billion.
::PAGE::
Kevin Rose, 33
Creator of Digg.com, a content-sharing website that shares everything from photos,videos and articles they have an estimated revenue of $31 million.
::PAGE::
Stacey Bendet, 32
Founder of alice + olivia, a very lucrative women's clothing line, it's estimated is revenue stream is $50 million a year.
::PAGE::
Dennis Crowley, 33, and Naveen Selvadurai, 28
Founders of the new virtual world phenomenon Foursquare, you can be the queen or king anywhere you are in this virtual world. Its estimated value is around $80 Million.
::PAGE::
Aaron Patzer, 30
::PAGE::
Andrew Mason,29
Founder of Groupon.com, need a coupon in a hurry? This is the site you go to, they will reach an estimated $350 million in 2010 and it's worth about $1.2 Million.
::PAGE::
David Chang, 32
Creator of the Momofuku noodle bar in New York City, which now has many mini empire's of Momofuku restaurants across the New York City.
::PAGE::

Chad Hurley, 34; Steve Chen, 32; Jawed Karim, 31
These 3 dudes pretty much changed the landscape on how we look at video's on the internet. These three gentelmen are the creators of YouTube. We don't know what their actually worth is but tio give you an idea, Google bought YouTube in November 2006 for $1.65 billion.
**NEW MUSIC** Chris Brown & Diddy - "Curse"
| | | | |
| --- | --- | --- | --- |
| Thursday, 03 June 2010 07:21 | | | |
Posted by:
don bleek
R&B singer Chris Brown linked up with Diddy for his new track called "Curse." After years of dating some of the baddest chicks in the game, both men still can't seem to find love. On the new track, C. Breezy is crying his heart out about finding love yesterday and today feels like it's his funeral. Diddy raps about wishing she will love him more and not pay attention to the rumors. I think the record sounds like a 2010 version of "I Need A Girl."  The track is dope, only if you are going through a similar situation. If you are not, you might agree with me that it is just okay.
NEXT PAGE: LISTEN TO "CURSE" FOR YOURSELF.

::PAGE::

Katy Perry Heads To The Gym In Short Spandex (PHOTOS)
| | | | |
| --- | --- | --- | --- |
| Thursday, 03 June 2010 07:21 | | | |
Posted by:
RachelSamara
Check out Katy Perry's sexy physique. The soon-to-be-married pop star, engaged to comedian, Russell Brand, has been hitting the gym hard ever since she got engaged a few months ago.
Rocking full body spandex and a classic Chanel bag, she looks amazing and stylish wherever she goes. At the rate she is going, she is going to be looking super svelte and beautiful on her wedding day, as if we had any doubt.
Check out the photos!
::PAGE::
::PAGE::
He HAS A Name #JuanCarlosGarcia, Shot In His Front Yard
| | | | |
| --- | --- | --- | --- |
| Wednesday, 02 June 2010 22:09 | | | |
Posted by:
The Decider
Juan C. Garcia killed in his front yard. Garcia, 16, was shot by someone during an argument. This is too sad, another young life taken by violence. School officials described the Garcia as an honor student, junior class president and platoon leader of the ROTC program.
Garcia's friends describe him as a fun loving kid who wasn't in a gang and had big plans on going to college, no one knows why the teen was shot in his front yard. According to police a gold Dodge Caravan pulled up. After an argument, Garcia was shot and killed in front of his house in the 1500 block of Belmont Avenue, according to police. Authorities are searching for the shooters.
Swizz Beatz Is Smitten By His Pregnant Fiance Alicia Keys (PHOTOS)
| | | | |
| --- | --- | --- | --- |
| Wednesday, 02 June 2010 22:09 | | | |
Posted by:
RachelSamara
Super producer, Swizz Beats was spotted out and about with his newly pregnant fiance, Alicia Keys. Now that they are out in the open with their relationship, they proudly put their love on display, holding hands after Alicia's concert at the Palais Omnisports de Paris-Bercy in Paris, France, on Monday (May 31). The power couple looked happy and in love as they were escorted out of their chauffered SUV.

::PAGE::
::PAGE::
Kimora Lee Simmons & Kids Are Jetsetters (PHOTOS)
| | | | |
| --- | --- | --- | --- |
| Wednesday, 02 June 2010 22:09 | | | |
Posted by:
RachelSamara
Fashion mogul, Kimora Lee was spotted with her baby, Kenzo, leaving LAX airport. The Life in the Fan Lane star did aninterview with OK! Magazine where she discussed travelling with her children:
"We travel a lot," she says. "We go to Europe and Asia; we go to the islands. It's a lot. It's a lot to get everything together and lug all your kids and their gear everywhere, but it's well worth it, and it's a lot of fun. I think it's important to create those milestones for children, and to expand their horizons and let them see the world and the people around them so they know they're not the only ones."
She continued, "I expose the children to a lot of different things. Now we're focusing on French because Djimon is French, and speaks fluent French. Culture also comes into our diet. We eat lots of Asian food, lots of African dishes. We try to expand our horizons. The girls have gone to Africa, the girls have gone to different areas in Asia. They're well-rounded individuals, and they're very interesting young people. I'm very blessed."
Thanks to ihadheard.com for the photos!
::PAGE::
::PAGE::
::PAGE::
Page 10 of 11