Spotlight
Miley Cyrus Is Fitness Fabulous (PHOTOS)
| | | | |
| --- | --- | --- | --- |
| Thursday, 01 July 2010 11:34 | | | |
Posted by:
The Decider
Miley Cyrus was getting her workout last night at a West Hollywood fitness center. The "Party in the USA" songstress really doesn't need to work out, she's 17 years young and her body looks amazing.
We guess when you're on stage tearing down arenas worldwide you need to stay fit and lean. It's good to see young people working out with the health crisis that is effecting our country Miley should do a PSA stressing the importance of a good fitness regiment, perhaps she can join the first lady, Michelle Obama in her "Let's Move" campaign. Either way Miley is exercising and looking right  sporting a white tank top and grey sweatpants. Check her out.
::PAGE::
::PAGE::
::PAGE::
Obama Loves The Cakes (PHOTOS)
| | | | |
| --- | --- | --- | --- |
| Thursday, 01 July 2010 11:34 | | | |
Posted by:
The Decider
Barack Obama has probably the sweetest tooth of any President in history. The Prez is always in a small town esting up people's food. He's always in some ice cream parlor or slurping down some ice tea.
Recently the Prez stopped by made a surprise detour to O&H Danish Bakery, in RACINE, Wis. He stooped by to pickup some pastry delights he sampled a pecan kringle, and said it was "outstanding" and added: "It makes you happy." He ordered one pecan and one cherry. Those cakes did look good we might have to visit that little bakery. Take a look at the Prez going in on some cakes.
::PAGE::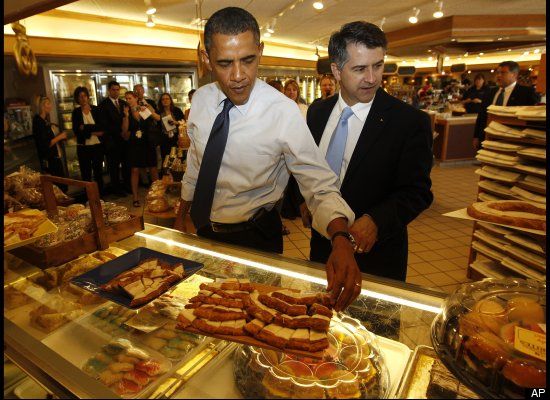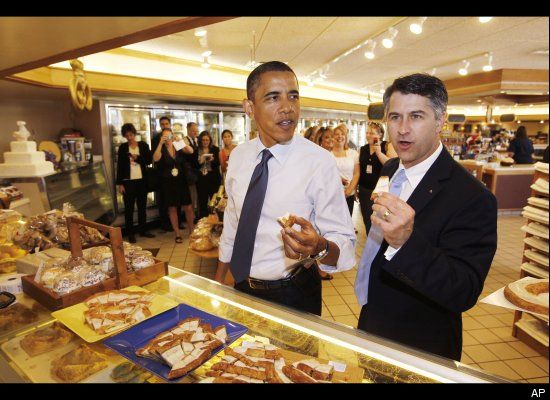 ::PAGE::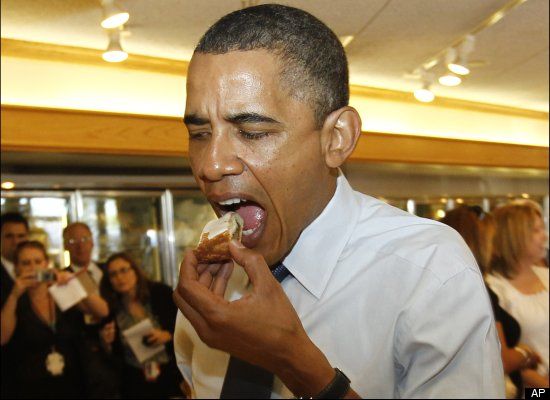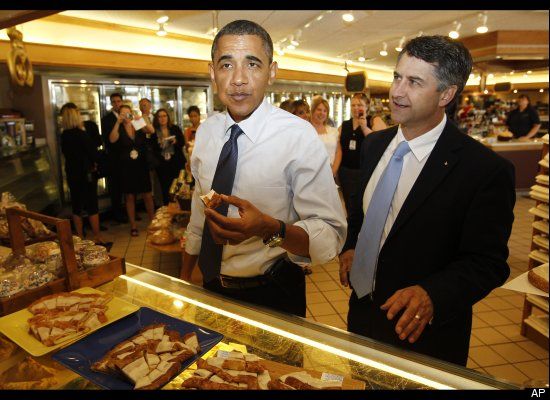 ::PAGE::
::PAGE::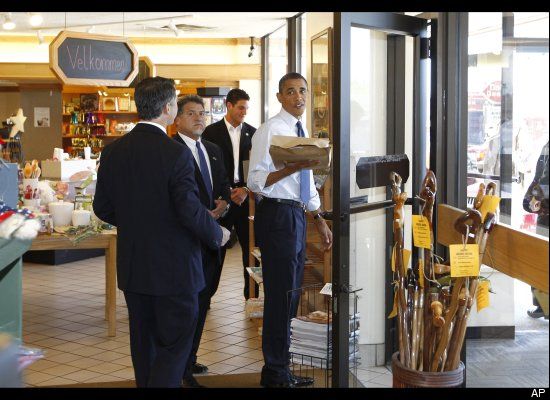 The Baddest Bit*h In Solange Knowles Life (PHOTOS)
| | | | |
| --- | --- | --- | --- |
| Thursday, 01 July 2010 11:34 | | | |
Posted by:
Vicky Misha
Solange Knowles is known as many things a mother, daughter, sister, writer, musician and singer. But when you are talking about Solagne you can't forget about her incredible fashion sense! This fall Solange is set to release her third studio album.
In a recent interview with refinery29.com they got the scoop on how she maintains her inspired style.
Who are your style heroes?
"My mom in the '70s and '80s! She was a bad b*tch. Sex and the City totally jacked her steez on the camels. I have a pic of her on a camel ride in Egypt in the '80s serving the hell out of that desert! Also, Diana Ross, The Fela Kuti Queens, Björk, '70s-era Chaka Khan, Chloë Sevigny, '90s Erykah Badu."
What's your secret style weapon?
"Shoes! I'm all about the shoes! I order a ton of them online and play with my entire wardrobe until I find the right shoe. Unfortunately, so many people get it right from the head until the ankles. The shoe is very important. I can't even f*ck with you if your shoe game is slacking."
::PAGE::
Tell us a little bit about working on the new album.
"I went up to Santa Barbara, found this house on five acres in the mountains and invited a bunch of amazing musicians to come live there with me for a month and just experiment. We woke up around 10 a.m. and made music until midnight, all of course while drinking good wine, picking avocados from the trees outside to make guacamole, and maybe enjoying a joint or two. I left the process a little crazy, but I really feel like I came into my own."
Musically, how is it going to be different from your previous records?
"'80s jams for sure! Early Chaka Khan, '80s Janet Jackson, S.O.S. Band, Prince, and of course the great Michael Jackson! We went extremely natural and raw when it came down to the production. Blowing into beer bottles, playing flower vases, tapping on chairs with pencils, and even recording a house party we had for Memorial Day as a sample. My previous record was extremely inspired by '60s Motown, and was very conceptual and polished. With this record, it was completely opposite. We kind of partied our way through an album. It was all about letting loose, and the boogie was very important."
**NEW VIDEO** Corinne Bailey Rae - Closer
| | | | |
| --- | --- | --- | --- |
| Thursday, 01 July 2010 11:34 | | | |
Posted by:
Tyrone P.
British soulstress Corinne Bailey Rae has just released the video for "Closer," the third single taken off of her beautifiul sophomore album The Sea. The video, much like the song, is a sensual affair, with Rae looking beautiful in black. Corinne has been through quite a lot in the few years in between her self-titled debut album (which was released in 2006) and The Sea. For one, her husband and musical collaborator died of a heroin overdose. It's great to see that she did not let that terrible loss take her under, and instead she's chanelled it into her music.
NEXT PAGE: WATCH CORINNE'S NEW VIDEO FOR "CLOSER"
::PAGE::
Khloe Karadashian And Lamar Odom Ride Out (PHOTOS)
| | | | |
| --- | --- | --- | --- |
| Thursday, 01 July 2010 11:34 | | | |
Posted by:
Vicky Misha
Khloe Karadashian and hubby Lamar Odom have been getting to spend more time together now that the NBA season is over. The couple was spotted out in Beverly Hills June 30.
Khloe and her NBA Champion man treated themselves to lunch at La Scala as the paparazzi checked them out.
Once they were done with their lunch, the happy couple got into Lamar's brand spanking new Rolls Royce Phantom, the gift Khloe gave him winning the NBA Finals, and drove off.
Later, Khloe was also spotted out later at the Beverly Center, sporting the same fun and flirty black dress with three-strap heels from her date with her hubby.
::PAGE::
::PAGE::
::PAGE::
::PAGE::
::PAGE::
::PAGE::
::PAGE::
::PAGE::
::PAGE::
Paranormal Activity 2 Trailer Too Scary For Audiences (VIDEO)
| | | | |
| --- | --- | --- | --- |
| Thursday, 01 July 2010 11:34 | | | |
Posted by:
LaLaLauren
The official movie trailer for Paranormal Activity 2 was recently released, and some Texas theaters are pulling it because apparently, it's just that terrifying. Supposedly, a few Texan Twilight fans saw a preview for the horror sequel while they were waiting for a midnight premiere of Eclipse, and were creeped out enough by the trailer to complain.
The original Paranormal Activity gained popularity because it was rumored to be scary enough to make grown men lose weeks of sleep after watching. Having the trailer for the sequel pulled from the screens for severely freaking out audiences will do wonders for Paranormal Activity 2's box office sales.
The movie, directed by Tod Kip Williams, will start where the last film left off, and it's set to come out on October 22, 2010. Watch the trailer at your own risk.
::PAGE::
::PAGE::
Kim Kardashian Visits The Madam And Gets Waxed (PHOTOS)
| | | | |
| --- | --- | --- | --- |
| Thursday, 01 July 2010 11:33 | | | |
Posted by:
Vicky Misha
Kim Kardashian was at Madame Tussauds in New York City July 1 to help the museum unveil the premier of her wax figure.
The reality star looked sexy as she wore a hot pink frock while she stood alongside the waxwork creation, which was also sporting the same dress.
Kim has been tweeting about the wax figure and happily wrote to her fans, "Getting ready to see my wax figure! I'm so nervous! Will it be weird? Will it look identical to me?"
Kim Kardashian traveled with her mother Kris Jenner and sister Kourtney Kardashian to the event. Kim was also spotted out the night before on a date with Miles Austin. Take a look at the other Kim Kardashian.
::PAGE::
::PAGE::
::PAGE::
::PAGE::
::PAGE::
::PAGE::
Victoria Beckham Is Queen Of The Bikini Bottom (PHOTOS)
| | | | |
| --- | --- | --- | --- |
| Thursday, 01 July 2010 11:33 | | | |
Posted by:
LaLaLauren
In the most randomly adorable move ever, Victoria Beckham will be lending her voice to an episode of Nickelodeon's SpongeBob Squarepants. The Spice Girl is starring as Queen Amphitrite, a mermaid, in the SpongeBob special, "The Clash of Triton." Beckham is excited about doing one of the voices for the special, which will hit Nickelodeon screen on Monday, July 5.
She told the press, "I was so thrilled when I was asked to be a part of SpongeBob as my children love the show. When I told the boys that I was going to be on the show, they were so excited! I had such a great time recording the voice of Queen Aphitrite. How fun to be a Queen for a day! We are all looking forward to watching it together."
Posh Spice isn't the only celebrity making a guest appearance in Bikini Bottom. John O'Hurley will do the voice of King Neptune, Queen Aphitrite's husband, and rocker, Sebastian Bach will provide the voice of their son, Triton.
NEXT PAGE: CHECK OUT VICTORIA'S CARTOON CHARACTER!
::PAGE::
NEXT PAGE: CHECK OUT A CLIP OF THE SPONGEBOB EPISODE!
::PAGE::
::PAGE::
Shouts to Faded Youth for the photos!
Nicki Minaj Chokes An Asian Dude (PHOTOS)
| | | | |
| --- | --- | --- | --- |
| Thursday, 01 July 2010 11:33 | | | |
Posted by:
The Decider
Nicki Minaj loves everybody so don't get fooled by the title, the man in question is famed photographer Howard Huang. Huang was the man responsible for shooting Nicki for Blackmens magazine. 
Huang has worked with some of the most powerful people in Hip Hop and pop, his portfolio can be seen at HowardHuang.com, take a look as he shoots Busta Rhymes, Mia and Just Blaze just to name a few. Working with Nicki must be dope because he shooting her again for another photo session. Take a look as both Nicki and Howard play around in front of the camera.
::PAGE::
(PROPS TO NICKI MINAJ.NET FOR THE PICS)
This Is Why Sophie Monk Is Hot To Death! (PHOTOS)
| | | | |
| --- | --- | --- | --- |
| Thursday, 01 July 2010 11:33 | | | |
Posted by:
SmithXX
Gorgeous multi-talented model/singer/actress and GG Blogger Sophie Monk was seen casually walking around looking hotter then ever. We've seen her in bikinis, skimpy dresses, and damn near nothing at all, but this might be the best she's ever looked! There is something about a girl who can pull off a T-shirt and jeans so effortlessly that makes her universal appeal skyrocket. Sophie has two movies that are supposed to be released later this year.
::PAGE::
::PAGE::
::PAGE::
Andy Warhol: The Last Decade Exhibition
| | | | |
| --- | --- | --- | --- |
| Sunday, 27 June 2010 22:55 | | | |
Posted by:
SmithXX
The late filmmaker and American artist Andy Warhol, who was the forefather in the expansive and culturally rich pop art movement, is being honor by the Brooklyn Museum of Art. This summer, you can check out the exhibition, "Andy Warhol: The Last Decade" which features pieces created during the final years of his over 40-year amazing career. The 50 piece exhibition, which can be seen until September 12, 2010.
Check out some of the pieces that will be on display at the Brooklyn Museum of Art.
::PAGE::
::PAGE::
::PAGE::
::PAGE::
::PAGE::
Kim Kardashian Looks Freshalicious With No-Make-Up x Spandex (PHOTOS)
| | | | |
| --- | --- | --- | --- |
| Sunday, 27 June 2010 22:54 | | | |
Posted by:
The Connector
Kim Kardashian can do no wrong.  Period.  Everyday, or at least every other day, we see the Armenian knock-out rock a red carpet or a promo event, but rarely do we see her without any make-up on.  And no matter what you say, Kim K. is as naturally beautiful as anyone.
Yesterday, Kim was spotted getting her workout ina t Barry's BootCamp in Hollwyood and she even tweeted about it..."Up and at 'em! Workout time...going hard today!"  To look that good, we wouldn't be surprised if Kim hits the gym hours at a time, everyday.  Check out the pics of the most incredible Kim Kardashian...Enjoy!
::PAGE::

::PAGE::

::PAGE::

::PAGE::

::PAGE::

::PAGE::

::PAGE::

Rick Ross Teflon Don Tracklisting
| | | | |
| --- | --- | --- | --- |
| Sunday, 27 June 2010 22:54 | | | |
Posted by:
LaLaLauren
The tracklisting for Rick Ross' upcoming album Teflon Don leaked online, and it's a feature-heavy project involving a variety of artists. There will be 11 tracks on Teflon Don, and only one cut on the album won't feature an artist other than Ross.
Some of the rappers and vocalists featured on the album are Jay-Z, Drake, T.I., Kanye West, Raphael Saadiq and Chrisette Michele.
Despite the fact that a leaked tracklist takes away some of the mystery from the album release, it could also help Rick Ross' sales. Hip-hop heads who may not have been too excited about the Miami rapper's latest album may think twice after seeing the list of other artists who decided to lend their talents to Ross' work. 
CLICK NEXT PAGE TO VIEW TEFLON DON TRACKLISTING!
::PAGE::
Teflon Don
1. I'm Not A Star - Rick Ross
2. Free Mason - Rick Ross (ft. Jay-Z)
3. Tears of Joy - Rick Ross (ft. Cee-Lo)
4. Maybach Music III - Rick Ross (ft. T.I., Jadakiss & Erykah Badu)
5. Live Fast, Die Young - Rick Ross (ft. Kanye West)
6. Super High - Rick Ross (ft. Ne-Yo)
7. No. 1 - Rick Ross (ft. Trey Songz & Diddy)
8. MC Hammer - Rick Ross (ft. Gucci Mane)
9. B.M.F. (Blowin' Money Fast) - Rick Ross (ft. Styles P)
10. Aston Martin Music - Rick Ross (ft. Drake & Chrisette Michele)
11. All the Money in the World - Rick Ross (ft. Raphael Saadiq)
We Be Clubbing: Jessica White and Irina Sheik In Birthday Suits
| | | | |
| --- | --- | --- | --- |
| Sunday, 27 June 2010 22:54 | | | |
Posted by:
GunnerJane
The beautiful Jessica White was in Vegas over the weekend to celebrate her 26th birthday. Bringing along her stunning friend Irina Shayk.When you look at Jessica it seems time has frozen she looks amazing.She looks like she's having a great time with her friend taking pics and just celebrating 26 years of beauty. Now from the looks of some of these pics its hard to decide if their just playing aroun or sturring up gossip. Either one they make it look fierce. Check out some pics of the Victoria Secret Angel living it up in Vegas and you decide for yourself.
::PAGE::
::PAGE::
::PAGE::
::PAGE::
::PAGE::
The Sexification Of The Chinese World Cup Fan (PHOTOS)
| | | | |
| --- | --- | --- | --- |
| Sunday, 27 June 2010 22:54 | | | |
Posted by:
LaLaLauren
China is using their beautiful women in order to further build the excitement surrounding the FIFA 2010 World Cup. The entire world (even people in the U.S. who could usually care less about soccer) has been paying attention to this year's tournament.
Not only is a good look for South Africa, but other countries have been taking advantage of the situation, as well. China, in particular, is capitalizing on this publicity by releasing promotional photos of beautiful Chinese World Cup fans, wearing nothing but flags, or stage fighting and doing gymnastics.
Nothing says promotion like sexed-up images of beautiful women. Check out the photos. 
::PAGE::
::PAGE::
::PAGE::
::PAGE::
::PAGE::
::PAGE::
Page 6 of 11